Autumn Blaze Maple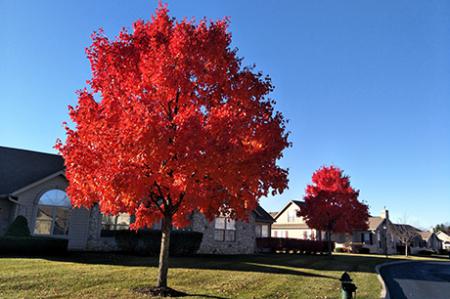 Have you ever wanted to know "what's the pretty tree that turns red in the fall"? You're looking at a Autumn Blaze Maple!
Once the cooler weather hits, you'll be in for a treat with the Autumn Blaze Maple. With it's 5-inch leaves, watch in amazement as they slowly turn from green to breathtaking red and organge-red in the fall. While the Autumn Blaze Maple has it's beauty all year round while having it's gorgeous green leaves in the spring and summertime and turn it's beautiful signature red in the fall while other plants begin to die out for the season. Shockingly enough, the Autumn Blaze Maple still holds up in the winter too! There's a number of good reasons why this tree has won the "Tree of the Year" award for many, many years.
Autumn Blaze Maples in Rockford, IL
Did we mention that these Autumn Blaze Maple trees are low maintenance and require little attention (after they've been established)? While you must keep the soil around the roots moist while they're still young, as they mature they'll only require watering if they're long period without rainfall. Not only do they require low maintenance but Autumn Blaze Maples are known to be pollution-tolerant, adaptable to a wide range of soil conditions, insect resistant, and disease resistant!
| | |
| --- | --- |
| Botanical Name | Acer x freemanii 'Jeffersred' |
| Mature Height | 40 - 60 feet |
| Mature Spread | 40 - 60 feet |
| Sun Exposure | Full Sun |
| Soil Type | Widely Adaptable |
| Growth Rate | Fast |
| Flower Color | Red |
| Foliage | Green |
| Fall Color | Red |
The Autum Blaze Maple is a fast growing, as well as a large tree. It is known to be one of the favored trees of the maple family seeing has how it can grow four times faster than any of the other maples in its species. While it's red foliage provides great curb appeal to all lawns, it can also withstand some of the harshest weather conditions.
Contact Ack Ack today and how their team of experts can help get you a Autum Blaze Maple in Rockford, IL today!