Swamp White Oak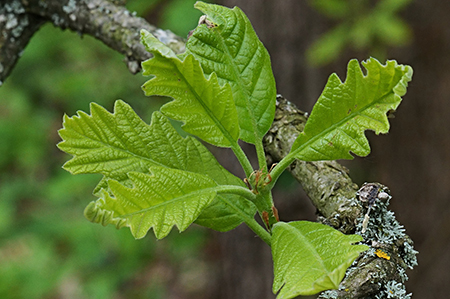 If you're searching for a tree with a striking appearance that requires low maintenance, take a look at the Swamp White Oaks!
Not only does the Swamp White Oak (Quercus Bicolor) have a rounded open habit, it has gorgeous two-toned leafs, a shiny top that's dark green and a velvety-white on the bottom. Due to their unique colors, the leafs are known to shimmer in the summery sunlight. You're in for a treat in the fall, the leaves on the Swamp Whit Oak will turn colors in the fall to a yellow and orange-gold in mid autumn. Did you know that as a young tree, the Swamp White Oak will have peeling bark that provides a sense of unique beauty? As the younger bark peels away, the Swamp White Oak will reveal an orange inner bark in preparation for winter.
Swamp White Oak Trees Rockford, IL
As a young tree, the Swamp White Oak grows surprisingly fast! In our nursery, it tends to grow just as fast as most of our maples. When you plan on taking one home to plant remember to find a nice sunny spot seeing has how these trees prefer fun sun in order to thrive. As for it's soil, the Swamp White Oak grows best in acidic, moist, well-drained, and wet soils. Did we mention that they're also drought-tolerant? Something to keep in mind when choosing a spot in your yard for your Swamp White Oak is that it will grow up to 50-60 inches in height and have a spread of 50-60 inches so choose a spacious spot!
| | |
| --- | --- |
| Botanical Name | Quercus Bicolor |
| Mature Height | 50-60 Feet |
| Mature Spread | 50-60 Feet |
| Sun Exposure | Full Sun, Partial Shade |
| Soil Type | Widely Adaptable |
| Moisture | High, Moderate, Low |
| Growth Rate | Fast |
| Foliage | Deciduous |
| Foliage Color | Green, White |
| Fall Color | Yellow, Orange, Red |
While the Swamp White Oak is known for it's luscious shade, it actually is a great food source for wildlife too! This species of Oak is known to attract a variety of bird along with other smaller animals and will yield oblong acorns in pairs that will grow to 1" in length. Not only are these incredibly beautiful to look at, they can actually live for hundreds of years once planted and established in your yard.
Contact Ack Ack today and how their team of experts can help get you a Autum Blaze Maple in Rockford, IL today!