Serviceberry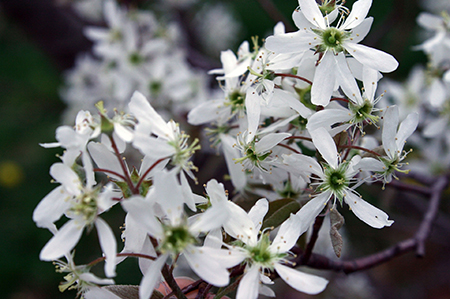 Serviceberry Trees are ideal if you're looking for something that provides year-round ornamental interest in landscape.
Serviceberry trees are known to be small, deciduous trees that are known for their white flowers in the spring time. They typically grow 1 to 2 inches per year so if you're searching for something that won't "grow like crazy" an inevitably take over your whole yard then take a closer look at how a Serviceberry would be perfect for your home! Serviceberry trees reach a mature hight of 15 to 30 feet tall and have a spread of 15 to 25 feet. While their bloom time is usually shortened to 3 or 4 days, their colorful leaves in the fall are nothing short of beautiful. If you're in need of a smaller tree that produces unique fall colors, a Serviceberry is the tree for you!
Serviceberry trees for sale Rockford, IL
Serviceberry trees require full sun to partial shade in order to thrive and typically grows well in acidic, moist and well-drained soils. You'll be happy to know that there are no serious problems with Serviceberry trees and work best in shrub borders or native plant gardens, especially with dark or shaded backdrops which tend to highlight the form, flowers and fall color of the plant.
| | |
| --- | --- |
| Botanical Name | Amelanchier sp |
| Mature Height | 15 - 25 feet |
| Mature Spread | 15 - 25 feet |
| Sun Exposure | Full Sun, Partial Shade |
| Soil Type | Well Drained |
| Moisture | Moderate |
| Growth Rate | Medium |
| Flower Color | White |
| Fall Color | Yellow/Red |
While the Serviceberry's flowers are shortlived, what comes after the flowers are round berries which turn from red to a dark purplish-black in the maturity in the early summer. These edible berries are close to blueberries not only in size but in color and are often used for jams and jellies in pie. The fruit that comes off of the Serviceberry trees are loved by birds (like American goldfinch, tufted titmice, brown thrashers, blue jays, Carolina chickadees, northern cardinals and American robins) and small animals. If you think a Serviceberry tree is right for your home, let us help find the perfect one for you!
Contact Ack Ack today and how their team of experts can help find you the right Serviceberry tree in Rockford, IL today!