Norway Spruce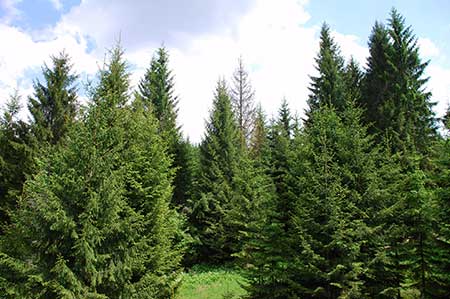 Are you looking for a tree that's both strong and attractive? Take a look at the Norway Spruce!
Known for their grace, the Norway Spruce is perfect for anyone who's looking to add a little ruggedness to their home and is one of the superior choices of evergreens. This choice of conifer has a pyramidal shape with long weeping branches that lay against its dark green foliage. They also feature dark green needles that are roughly ½–1" in length and feel square when rolled between your fingers. On top of that, they produce cylindrical spruce cones that hang from those drooping branches, almost like ornaments that were specially placed there. These light brown cones grow to around 4-6 inches and sit upright on the branch until fertilized. Once fertilized, they gradually turn downward.
Norway Spruce Trees for Sale Rockford, IL
Not only are Norway Spruce trees ideal for anyone searching for something that's easy to care for, they provide a great wind barrier (and sound barrier) for your home. These trees will grow at a medium to fast rate and increase in height from 13 in. to more than 24 in. per year. Norway Spruce trees need full sun, meaning that they should get at least 6 hours of sunlight in order to thrive. When it comes to soil preference, these trees grows in acidic, loamy, moist, sandy, well-drained and clay soils. They also have the perfect symmetrically shape to be a Christmas tree and are an excellent choice for a front-yard holiday tree or as a semi-formal accent in large yards.
| | |
| --- | --- |
| Botanical Name | Picea abies |
| Mature Height | 50 - 70 feet |
| Mature Spread | 25 - 35 feet |
| Sun Exposure | Full Sun |
| Soil Type | Widely Adaptable |
| Growth Rate | Medium |
| Foliage | Green |
| Fall Color | Evergreen |
Did you know that Norway Spruce trees support a wide variety of wildlife? They are important as winter cover for deer and small game including grouse, hare and woodcock. Song birds and fur bearers also frequent these forest types. Norway spruce also makes a good roosting tree for hawks and owls. If you think a Norway Spruce tree is right for your home, let us help find the perfect one for you!
Contact Ack Ack today and how their team of experts can help find you the right Norway Spruce tree in Rockford, IL today!