Hemlock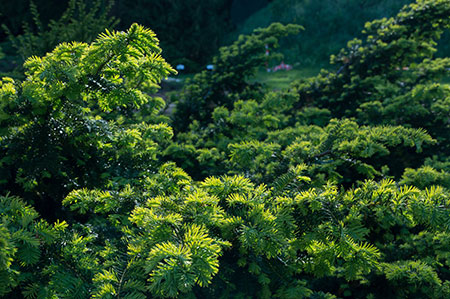 Add a visual element of strength and grace to your landscape with a Hemlock tree!
The Hemlock tree is a member of the pine family and widely known to be native to Northern America. Typically, these trees are ideal for screening, groupings, and foundation plantings for your home and grow at a medium rate of up to 24 inches a year while maturing at 40 to 70 feet tall and 25 to 35 feet wide. These trees resembles a large Christmas tree with its broadly pyramidal, pendulous branches and fine, dark-green needles on widely spaced branches that give it a delicate, lacy feel. Hemlock's will also produce abundance of small brown cones ½ –1" long that hang from the branches like ornaments.
Hemlock Trees for Sale
When it comes to caring for your Hemlock tree, there are many factors that need to be taken into consideration. These trees will need a minimum of 6–8 hours of direct, unfiltered sunlight each day (or full sun to light shade) and cannot tolerate drought or wind. When it comes to soil preference, the hemlock grows in acidic, loamy, moist, sandy and well-drained soils and is not drought-tolerant. They'll also require regular pruning if you wish to keep the tree a particular size or shape. If you've been careful about your planting location, care for your hemlock tree is not difficult!
| | |
| --- | --- |
| Botanical Name | Tsuga canadensis |
| Mature Height | 60 - 70 feet |
| Mature Spread | 20 - 40 feet |
| Sun Exposure | Full Sun, Full Shade, Partial Shade |
| Soil Type | Sandy |
| Growth | Slow |
| Goliage | Green |
| Fall Colors | Evergreen |
If you're hesitant on purchasing a Hemlock tree because you know hemlock is poisonous, we're here to tell you that you have nothing to worry about! This tree does not have the poisonous genes that are in perennial plants or the parsley family. Actually, these trees provides excellent cover for deer and songbirds during the winter months. If you think a Hemlock tree is right for your home, let us help find the perfect one for you!
Contact Ack Ack today and how their team of experts can help find you the right Hemlock tree in Rockford, IL today!